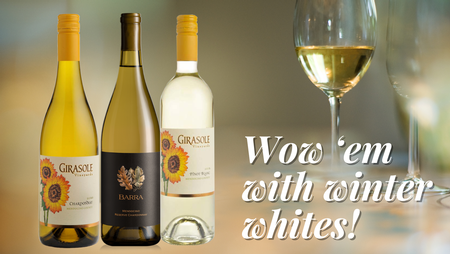 White Wine Bundle (3 btls)
Barra Reserve Chardonnay
Our single vineyard chardonnay offers up romas of ripe pear, vanilla, banana and warm caramel notes. On the palate, its richness is balanced by refreshing acidity and delicate accents of peach, fresh sourdough, and honeysuckle.

Girasole Vineyards Pinot Blanc
Bright flavors of soft lemon peel and mandarin orange. This is a vibrant, dry wine with a terrific balance of fruit, crisp acids and our signature Mendocino minerality!

Girasole Vineyards Chardonnay
Aromas of lemon-lime, kiwi fruit and Granny Smith apples. An elegant, creamy note lies gently on the additional aromas of vanilla and lightly roasted almonds.