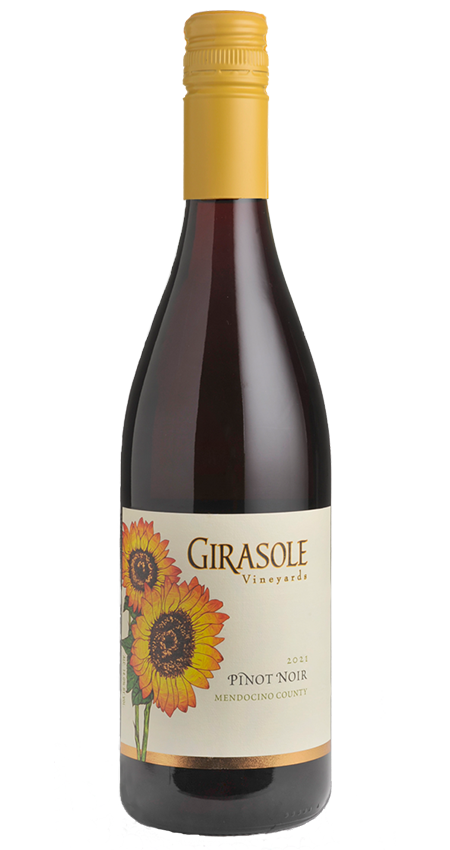 2021 Girasole Vineyards Pinot Noir
Organically grown pinot noir grapes from both our home ranch and our winery site in Redwood Valley, CA were hand harvested in mid September of 2021. The bunches were destemmed into a stainless steel tank for fermentation. The mixture of skins, seeds and juice were cold soaked for 24-48 hours to begin flavor extraction. After a CCOF (California Certified Organic Farmers) approved yeast was added, the must was mixed two times per day to continue extracting color and tannin. These pump-overs help to enhance the aroma and flavor from the pinot noir grape. Once fermentation was complete, the must was delicately pressed and aged on French oak for 7 months.

This wine opens with inviting aromas of strawberry, cherry and clove. Hues of red roses and ruby jewel tones fill the glass. On the palate, this is a soft, fruit-forward wine with plush tannins and flavors of ripe plum and black cherry. Just a touch of new French oak lends texture and helps frame the bright red fruit that radiates from this wine. (Vegan Friendly)
92 points / Sunset Magazine & 89 points / Wine Enthusiast

92 points / Sunset Magazine & 89 points / Wine Enthusiast
Wine Specs
Vineyard Designation
Estate Grown/ Organically Farmed
Wine Profile
Other Notes
Vegan Friendly
Did you know that Girasole (pronounced jeer-a-so-lay) translates to sunflower in Italian? In Italian the verb "girare" means "to turn/rotate" and "sole" translates to "sun". As you've undoubtedly seen, sunflowers turn to the rising sun each morning!