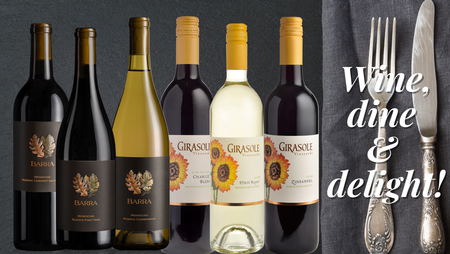 Wine & Dine Bundle (6 btls)
Barra Reserve Chardonnay
Our single vineyard chardonnay offers up romas of ripe pear, vanilla, banana and warm caramel notes. On the palate, its richness is balanced by refreshing acidity and delicate accents of peach, fresh sourdough, and honeysuckle.

Girasole Vineyards Pinot Blanc
Bright flavors of soft lemon peel and mandarin orange. This is a vibrant, dry wine with a terrific balance of fruit, crisp acids and our signature Mendocino minerality!

Barra Reserve Pinot Noir
Aromas of strawberry, black cherry and sandalwood spice with just a subtle hint of toasty, new French oak. At first sip you're greeted with ripe red fruits, creamy acids and that classic Mendocino mineral component.

Barra Reserve Cabernet Sauvignon
Complex notes of vanilla, black currant, wood spice and anise. On the palate, it is soft and plush, while at the same time delivering a wonderful, lively acidity.

Girasole Vineyards Charlie's Blend
Complements of the petite sirah, this red blend is full-bodied with its beautiful blackberry flavors and rich mouth-feel. A touch of oak adds warm cedar and vanilla flavors and integrates the wine perfectly. 54% Cabernet Sauvignon /18% Merlot /18% Petite Sirah / 10% Zinfandel.

Girasole Vineyards Zinfandel
Medium to light ruby in color with vibrant aromas of raspberry, black plum and vanilla. A medium-bodied wine with rich, yet delicate flavors of red currants, white pepper and fresh crushed cherries.